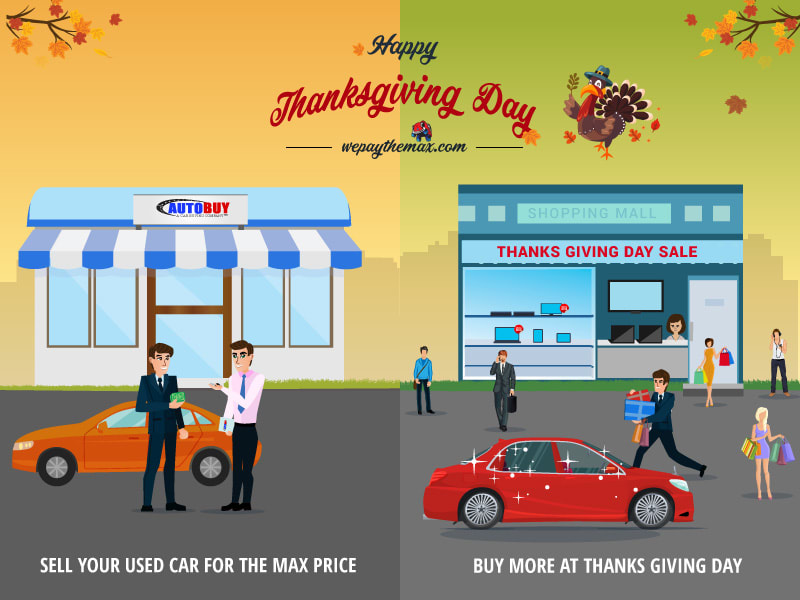 We have entered the holiday season this year and we are all so very excited about it. With Halloween complete and Thanksgiving just around the corner, we have already started to make plans for the holidays and the festive season ahead. This is the also the time where businesses make most of the money drawing from the festive shopping. People around you will already be flooding you with advice about what to buy and where to buy it.
But, what about selling? We think thanksgiving is the right time to sell your used vehicle and we are going to give you 5 reasons why you should be doing so.
Price of New Vehicles
Like we already said, businesses make most of the money during the holiday season. Some car dealerships give huge discounts on vehicles which haven't been sold, or the one which they are planning to sell before the year ends. This makes it the right time to sell your used car and purchase a brand new one for the new year. Some dealerships go even as far as giving free accessories, discounted insurance, and other added benefits on purchasing your vehicle.
Waiting for Public Transport
The festival season here in Florida may not be as punishing, but up in the United States, it does get quite cold during the holidays. This makes people who generally commute in public transport to miss the comforts of a car. While many of the people who use public transport aren't very rich, they could certainly afford a used car instead of a new one. Since they would not need a new one when the seasons turn, people most preferably go for used vehicles. This increases demand for used vehicles in the market during the holidays make it a perfect time to sell your used vehicle.
Winter is Coming
Yes, winters is coming and are you ready for it? While winter has already arrived in many parts of our country already, it certainly is going to get a lot colder during the holidays. Thanksgiving would be the latest you could ever sell your used car, because when the snow falls and cold winds blow, you don't want to be buying or selling cars. This also gives you another reason to worry about your used car. Is it robust enough to make it through the winter without letting you down? Getting stranded any time is difficult; imagine getting stranded when the weather has turned. Sell your used car now and get a new car that would take you through the winter.
Gifting Season
Yes this is the time to celebrate and celebrations means gifts. Many of us would remember that the very first car your parents might have bought for you was an used one. Many promises of gifts have to be kept and gifting cars is something that many consider truly American. When you are gifting a car to your child it is most likely to be a used one. This once again increases the demand for used cars in the market. Demand increases prices and increased priced means it's a great time to sell your used car.
Bonus for SUVs
If you look that statistics of the vehicles that are bought and sold during or before the holidays, there is quite an increase in the percentage of SUVs being sold during the holiday season compared to other times. It is quite understandable why. With snow and change in weather, people feel the need for SUVs and purchase them. So, if you are having an old SUV that needs to be sold, now is the right time to do so.
While seasons come and go, certain things do not change. Among those things is AUTOBUY's habit of paying the max price for used vehicles at any time of the year. It doesn't really matter when you are selling your vehicle as long as you sell it on AUTOBUY.
To learn more about how sell your car for the top dollar this thanksgiving, visit wepaythemax.com right now!