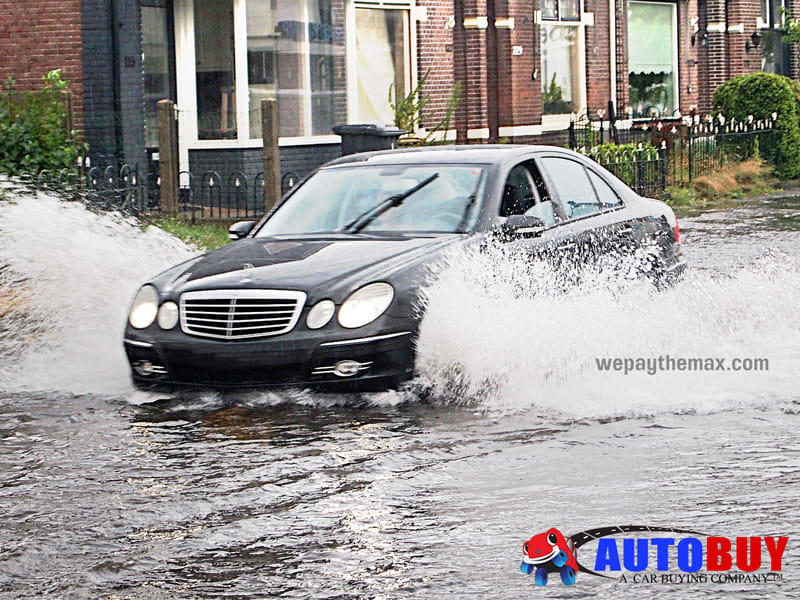 While it is debatable if the consecutive hurricanes Harvey and Irma were caused by Global Warming, one thing is for certain. Nature's fury has left several million cars damaged in the states of Florida, and Texas. Well, we couldn't have prevented the natural calamity; we can save ourselves from the flood of water damaged used cars.
AUTOBUY is still the best place to sell used cars and we pay the maximum not just for cars, but also for motorcycles, SUVs, Trucks, Campervans, Motorhomes, RVs, Commercial Fleets and even Boats! AUTOBUY has created a reputation for paying maximum for used vehicles and we have stuck to it for over 20 years now. But the promise of paying maximum for a used vehicle limits us from buying water/flood damaged vehicles as we cannot pay the max for them.
AUTOBUY's highly trained appraisers can find a flood damaged car when it comes to our store immediately and it would be rejected for sale. Becoming cheap on the used car market, many unsuspecting civilians like you might easily fall for an attractively priced flood damaged vehicle. This blog is intended to help you not fall for a flooded used car.
While it is every bit as tempting to buy flood damaged vehicles are jaw dropping prices, the risks are just too much. That is why you should never buy a flood damaged vehicle. Here are few ways to spot one.
Check History
There are many ways to check the history of a vehicle. You can start with the VIN and you can discover a great deal of history about that vehicle. If the vehicle has been flooded and had to be salvaged it would have made the register as it required an insurance claim. Most flooded cars will be stamped as salvaged and sent to an auction. Mostly these vehicles would then be sold for scrap and any usable parts would make it to the scrap sale market as well. If you get a salvage vehicle you will know about it from the NMVITS.
A Professional Inspection
There are many ways to spot a car if it had been damaged by floods or had been submerged. There are a lot of places where rust would have started. But for the common eye these minute details are quite difficult to be found. With the surge in flood damaged vehicles, there people who are fixing these vehicles as well. They do get pretty good at it. So, only a professional inspection could get really find out if the vehicle you are looking at had been repaired from a water damage situation.
Finally, now even if you have protected your used car by finding the right parking spot or moved from the line of the storm to escape floods, it is still going to be a hard time selling your used car. Like we already said, AUTOBUY is committed to paying the max cash for good quality used vehicles that fit our criteria.
During this time when there is a massive flood of flood damaged vehicles, you will most certainly not get the max price for your good used car. But don't worry. If your car is undamaged and is in a right condition to sell AUTOBUY will definitely pay the max cash for it.
For more information about selling used vehicles instantly, visit our website now.