With our lives being as busy as they are, there seems to be little time to think about what we can do to make things little easier and, maybe, a little more enjoyable. Because commuting is a huge part of our daily lifestyles, our transportation is a great place to start, Are you driving an out dated car, truck, crossover, or sports utility vehicle. Are you tired of spending copious amounts of money just to keep your old vehicle running well? Are you ready to upgrade to something that suits your style, life, and budget a little bit better. Why not sell that old vehicle and use the funds as a down payment on a newer and better vehicle. Are you in the southern Florida area and looking to sell your car in Fort Lauderdale? Go to the professionals that will give you as much as possible on your old car. Go to AutoBuy and get the most for your old vehicle.
Get the Most for Your Old Car
Finding the right place to sell your old car can be stressful. We hear all the time online how people get ripped off on the daily basis about their trade in. Even when you know that your car is worth a certain amount, it seems more difficult than ever to get what you deserve for your car. On top of that, the hoops that some of these companies force you to jump through just to get the amount of money you agreed on is outrageous. It's enough to make you simply want to give up. Don't get stuck with a small amount of cash as the down payment for your next car. Go with the experience sales staff that work hard to get you the best possible deal for your old car. Head on over to AutoBuy in Fort Lauderdale today get started on the next step of your journey to a new car.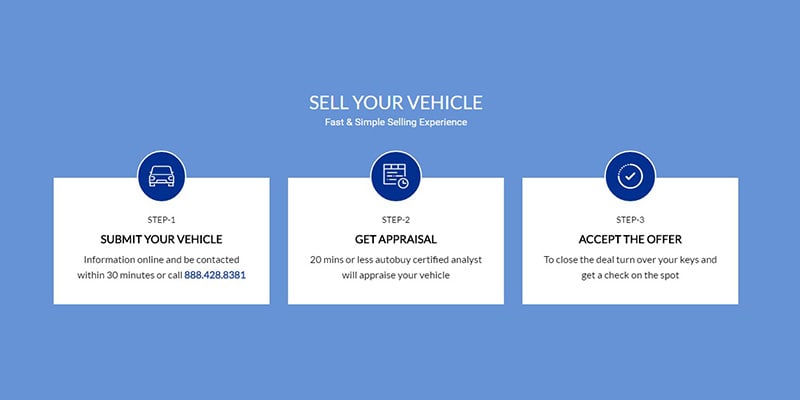 A Faster Process for More Money
The professionals at AutoBuy make the whole process of selling your car simple and fast so you can get started on the next best thing. In fact, it can be summed up to 3 easy steps. First, send in all you car's information by submitting the easy online form or calling the toll free number. Next, just bring in your car to a AutoBuy location near you so the specialists at AutoBuy can take a look at the vehicle in person. This is the best way they can ensure the absolute best rate for your vehicle based on condition and is often a step many competitors (who would rather just give you the least amount of money possible) skip. Finally, just close the deal! If you like the service you received and appreciate the high payment AutoBuy is willing to give, just sign on the dotted line, receive your check immediately and be on your way to a better vehicle in thirty minutes or less. No hassle, no problem!
Don't get suck waiting for hours, working through tedious paperwork, and walking away with little to show for it. Call AutoBuy in Fort Lauderdale, Florida today. Have all of your questions answered and get the most for your old car quickly and painlessly so you can find yourself in a new car faster.