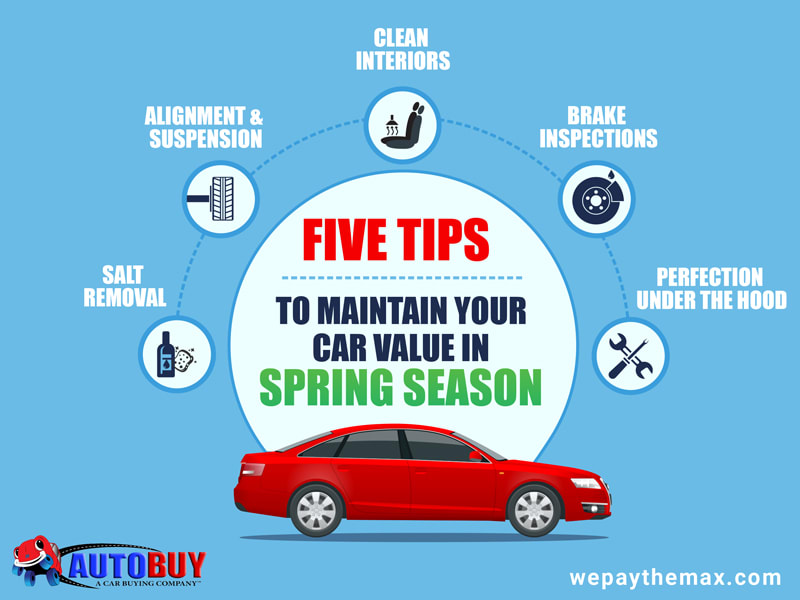 Well, the winter is coming to an end and your vehicles have to acclimatize to a whole new set of challenges coming in the spring. The changing climate and weather could have profound impact on your automobiles. If you have been following the AUTOBUY blog regularly, you would have found our winter car care tips. You can click here to head over to that blog which was widely read and shared by the auto enthusiastic community online.
AUTOBUY being one America's leading car buying companies online, aims to educate our audiences and customers to make the most out of their vehicles just like we pay the max price for used automobiles. Having served over 100,000 customers in our several years of experience, we at AUTOBUY have discovered that consistent maintenance on your vehicles could greatly improve the value of your used car when it comes to selling it.
While AUTOBUY's appraisal methods are world-class, many of our customers do ask us if there are ways to further increase the value of their used car after being surprised at the value we offer. This is why we at AUTOBUY provide regular car maintenance and care tips to help our customers maintain their vehicles in top quality and get a better resale value.
Here are some of the important car maintenance tips that you could implement this spring.
Salt removal:
Salt is a highly corrosive material and it is one of the most important components for keeping roads drivable during the winter. With constant contact with salt and ice, rust will quickly settle in without proper care or maintenance. One of the best ways to ensure minimal damage from salt is to completely rinsing your vehicle or giving a good wash. With extra care and polishing to the extremities and the bumpers, car could come right out of the winter mode.
Alignment and Suspension:
Winter is the time not known for its smooth rides or pothole free roads. Traversing on snow and broken roads could take its toll on your vehicle. Among the first things to be affected in your vehicle include wheel alignment and suspension. First things to do in spring would include checking your wheel alignment and suspension and paying special importance to repairing or replacing any wear and tear that might have taken place.
Clean interiors:
Winters often have strange way of getting into the interiors of your vehicle. The interiors of your vehicle could accumulate dampness and could develop mould. This could be further aggravated with many spring time issues. As we all know, spring is a time of allergies and infections and a damp car interior is a perfect breeding ground for allergies and sickness. Get your car's interiors thoroughly cleaned before spring and it would also make your ride all the more enjoyable.
Brake Inspections:
Brakes and brake devices would undergo a huge amount of stress along with wear and tear because of the constant exposure to the hard elements. The changing climate in many cases could damage your brake pads or even cause damage to the discs. Brake inspection, change of brake pads, and checking for brake fluids are very important before you start using your car in spring. Neglecting brake maintenance could cause expensive damages to the rotor and compromise the safety.
Perfection under the hood:
It is important to ensure that your vehicle has made it through the winter without developing any major damages. Give your vehicle a thorough check up under the hood. Check your turbo, all the different fluids including engine oil, coolants, and wiper fluids. It is advisable to change your engine oil and coolant especially after a harsh winter like we faced this year. It is always advisable to make these checks at professional mechanic but if you are comfortable with doing it yourself make sure you get it right.
If the winter has taken a massive toll on your vehicle, it is good to sell it and go for a new car. When it comes to selling used car, let AUTOBUY be your preferred choice. From 20 minute appraisals to instant payments, AUTOBUY is the best place to sell used cars for max cash.