There may come a time when you feel like you are ready to sell your car, maybe because you no longer want it, or do not have a use for it anymore, or maybe because you are ready to upgrade to another newer vehicle. Regardless of what the reason may be, if you want to sell your car for cash in West Palm Beach, then you should look no further than AutoBuy! AutoBuy is a car buying company located in West Palm Beach, that will buy your car from you, for cash on the spot! It does not matter the condition, age, or mileage of your car, AutoBuy will take it. AutoBuy is a proud buyer of trucks, SUVs, cars, vans, hybrids, motorcycles, and much more. AutoBuy will buy your car even if it is damaged and pending an insurance check, you lost the title, have an out-of-state title, or even has a loan on it. Selling your car for cash in West Palm Beach has never been easier!
Sell Your Car for Cash in West Palm Beach
Getting cash for your car has never been easier thanks to AutoBuy in West Palm Beach! A helpful AutoBuy associate will assist you in scheduling a free appraisal at either your home or office, whichever is more convenient for you. Your vehicle will then be appraised by one of AutoBuy's professional appraisers. The appraisers will give your vehicle a value, and the value includes considerations for year, model, make, mileage, interior/exterior damage and any other factors that may be of consideration. In as short as 20 minutes, a certified AutoBuy inspector will appraise your car and come up with a written offer to purchase the vehicle from you. What could be easier and faster than that? You have the choice to either sell your vehicle right there on the spot, or you can wait up to five days to make your decision.
The Steps to Selling Your Car for Cash Today!
AutoBuy implements an easy four-step process for appraising your vehicle. The first step in their quick process is one of the AutoBuy associates will schedule an appointment for an appraisal on your car. You can set up a time and place for this appointment by either visiting AutoBuy's convenient website or by giving the team at AutoBuy in West Palm Beach a call. After this, one of AutoBuy's appraisers will come and appraise your car in order to establish what it is worth. The third step is to either accept AutoBuy's offer, or move on from the offer. If you choose to accept AutoBuy's offer, then you will be happy to know you will receive the money within the same day as the sale of your vehicle!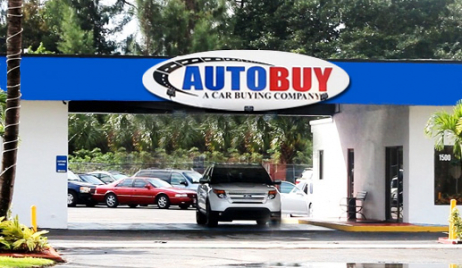 Come to AutoBuy in West Palm Beach Today!
Some car buying companies you may come across will offer you far less than what your car is actually worth, and may even make you go through multiple unnecessary steps and inconveniences just to get that money. Instead of dealing with one of those companies, simply call AutoBuy and get the maximum offer for your vehicle! If you currently own a vehicle that you no longer use and would like to sell for cash, call the experienced team at AutoBuy today! Autobuy has four terrific locations to meet all of your car selling needs. AutoBuy proudly serves customers in West Palm Beach, Dade, Broward, St. Lucie, Martin and Indian River counties with their car purchasing hubs in Margate, Stuart, West Palm Beach, and Miami Gardens. Sell your car for cash today in West Palm Beach at AutoBuy!