If you're looking for a car buyer, Autobuy has four great locations to meet all of your car selling needs. Currently serving Palm Beach, Dade, Broward, St. Lucie, Martin and Indian River counties with our car purchasing hubs in Margate, Stuart, West Palm Beach, and Miami Gardens. Our new Miami Gardens location is proud to buy all vehicles from our clients in Opa-Locka, Hialeah, West Park, and Miramar. When you are ready to sell your car, call us! We will buy any vehicle, regardless of condition, age, or mileage. buys cars, trucks, vans, SUVs, hybrids, work vehicles motorcycles, and more. We will even buy your car if it has a loan on it if it is damaged and pending an insurance check, if you lost the title, or even if you have an out-of-state title.
Fast and Simple Car Buying Experience
An Autobuy associate will help you schedule a free appraisal at your home or office. Your car will be appraised by one of our professional Autobuy appraisers. The value includes considerations for mileage, year, make, model, interior/exterior damage and any additional factors that the appraiser might find. There isn't a faster way to sell your used car, truck, SUV, motorcycle, or commercial vehicle other than with Autobuy. In as little as 20 minutes, a certified Autobuy inspector will appraise your vehicle and produce a written offer to buy your vehicle. You can choose to sell us your vehicle instantly or take up to 5 days to make your decision. An Autobuy associate will assist you with completing your vehicle purchase. The best part is we can come to you at your home or office right in Miami. Look for car buyers at Autobuy in Miami where our process is very simple and fast, with only four steps to take when appraising your car. The first step is to have one of the AutoBuy associates schedule an appointment for an appraisal on your car, motorcycle or commercial vehicle. You can start this step by calling in or by visiting their user-friendly online services. A professional appraiser will then check your vehicle, taking into consideration the car, motorcycle or commercial vehicle's mileage, year, make, model, interior and exterior damage, as well as any other additional factors that could affect or appreciate the vehicle's value. The third and final step of this simple process is to either accept or move on from the offer that the AutoBuy Car Buyers will give you. If you choose to accept the offer, you will receive your money the same day as your car sale.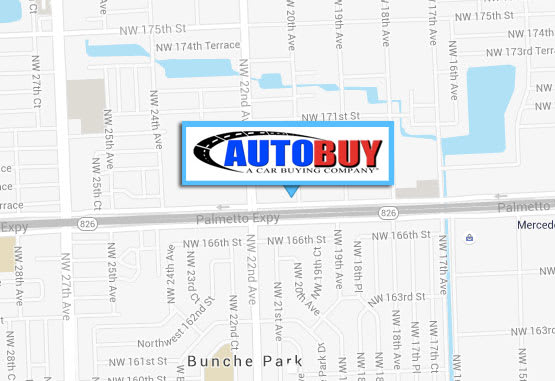 You're Guaranteed the Maximum Offer
It seems more difficult than ever to get the price you deserve for your car, even when you know your car is worth a certain amount of money. Not only will certain companies offer you way less than what your car is worth, they will even try to force you to go through unnecessary obstacles and inconveniences just to get the money you were promised. Sometimes the motions of selling your old car can be so demanding that it makes you just want to give up altogether. Instead, choose to sell your car to an appraiser at AutoBuy in Miami for the maximum offer. AutoBuy has a highly skilled team that will work day and night to get you the best possible deal for your old car. Do not waste your time and money dealing with a company that does not have your best interest in at heart.
Schedule an Appointment Today
You can call and speak to any one of our Autobuy experienced staff members during our business hours, or you can send us an email and someone will get back to you soon. All you have to do is call or fill out the information above to sell your vehicle. The team at Autobuy will be waiting to hear from you!