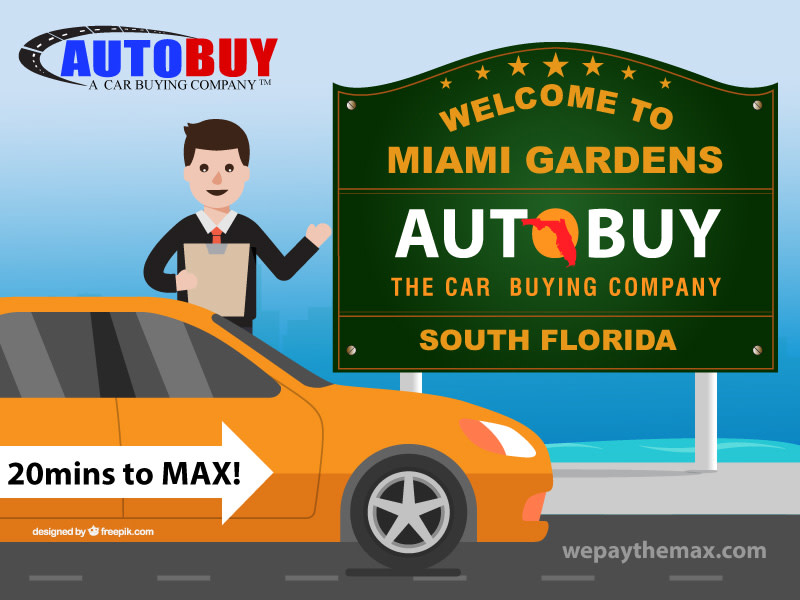 The iconic city of Miami Florida, has given the world numerous icons and American legends. Any business would be proud to start up its new location in the great city. The fastest growing car buying company in the United States has now expanded to its fourth location at Miami Gardens, Florida. Miami, has not shortage of car buyers of all types and dealers who even specialize in particular type of vehicles like boats and motor homes. So, starting in a new location, what are the advantages the AUTOBUY has to offer the residents of Miami?
We would like to list out few of the reasons which will make you think AUTOBUY is the best place to sell my car in Miami.
Essential Timing:
There can never be enough reasons demonstrated to imply the importance of timing while selling your used car. Time affects the value of your car in various reasons. For example, a car that has remained unsold for a longtime would cost much lesser than a newer car on the used car market, even if the newer car's actually value is lesser. Secondly, there are seasons where people buy and sell cars. Thanksgiving, year-end celebrations, Easter and other celebrations also increase the value of used cars as there are more people to buy those used cars. So, when you are planning to sell your vehicle for the best price, you should time it right.
So, if you are in a situation where you are looking for best way to sell your car off-season, AUTOBUY is the best option. For over 2 decades, AUTOBUY has been renowned for providing the max offer for used vehicles. With AUTOBUY, you can be assured that you need of "want to sell my car quick" would be satisfied in the best possible way.
A Decision You Make:
The major frustration that people who sell used cars face is that dealers force them to into making decisions that they later regret. When a dealer knows that you have a car to sell, they would do everything under their power to sell your car for a value that is more profitable to the dealer. Dealers brainwash you about how the minor dents and repairs in your vehicle makes it lose a large amount of value. They are also pressurize you to sell your car quickly again threatening you about the loss in value.
When customers have sold their vehicle, they later come across transparent businesses like AUTOBUY and regret the decision they have made. Professionals at AUTOBUY strictly adhere to professional business standards and uphold transparency of the business. Vehicle inspections happen at location of the customers' preference and takes just 20 minutes. More importantly, the offer we make is valid for 5 days giving our customers plenty of time make the decision on their own.
Being America's premier car buying company, AUTOBUY also purchases all types of automobiles ranging from cars and motorcycles to boats and campervans. With the right awareness and aptitude, AUTOBUY would the primary company to sell all your cars for the max price at Miami.